Coupons New/Edit
How to Access
Select Extensions → MyMuse→Coupons from the drop-down menu of the Joomla! Administrator Panel.
Click the Coupons link in the submenu
Click the New icon in the toolbar.
To edit an existing Coupon, click the Coupon's check box and then click the 'Edit' button.
Description
This is the back-end screen where you can add and edit Coupons.
Screenshot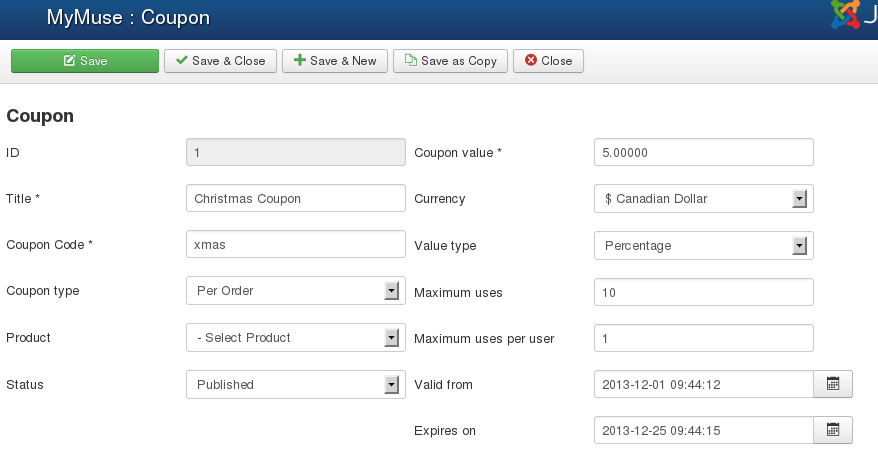 Fields
ID. Assigned by Joomla.
Title. The title will appear on orders.
Coupon Code. The code the customer must enter in.
Coupon Type. Per Order or Per Product.
Product. If Type is per Product, select the product.
Status. Published or unpublished.
Coupon Value. A number.
Currency. Force the currency of the coupon.
Value Type. Apply a Percentage or a Flat Rate.
Maximum Uses. Total times this coupon can be used.
Maximum uses per user. Total times one user can use this coupon.
Valid From. Date the coupon will be valid from.
Expires on. Date the coupon expires.
Description. An internal description of the coupon.
Toolbar

Functions
Save.
Save & Close.
Save & New.
Close/Cancel.
Help. Opens this help screen.