ShopperGroups New/Edit
How to Access
Select Extensions → MyMuse→Shopper Groups from the drop-down menu of the Joomla! Administrator Panel.
Click the Shopper Groups link in the submenu
Click the New icon in the toolbar.
To edit an existing Shopper Group, click on a Shopper Group's Title or click the Shopper Group's check box and then click the 'Edit' button. The Add New Shopper Group and Edit Shopper Group screens have the same functionality.
Description
This is the back-end screen where you can add and edit Shopper Group.
Screenshot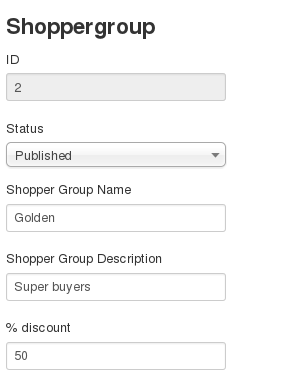 Shopper Group Fields
ID. An internal ID number. New ones will assigned the next ID available.


Status. Published or Unpublished.


Shopper Group Name. The Name of the Shopepr Group.


Shopper Group Description. An internal description for the administrator.


% Discount. The discount this group will receive.
Toolbar

The functions are:
Save. Saves the article and stays in the current screen.


Save & Close. Saves the article and closes the current screen.


Save & New. Saves the article and keeps the editing screen open and ready to create another article.


Cancel/Close. Closes the current screen and returns to the previous screen without saving any modifications you may have made.


Help. Opens this help screen.