Category Options
All the category views in MyMuse, inlcuding "List All Categories", "Category plus Product Blog", "Category plus Products in a List" have the option sections "Category" and "Shared Options".
The views "Categories by Alphabet" and "List of Tracks" have a limited sets of "Category" options.
The "Shared Options" apply to Alphabet, Blog and List types of Category menus.
Category Options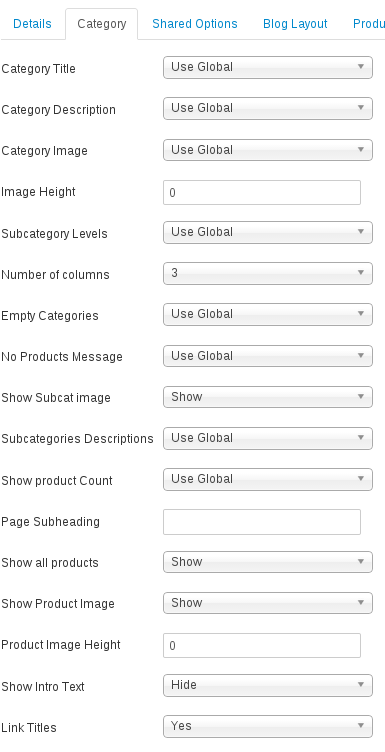 The options tab "Category" has the following options:
Category Title: Show/hide the Category title. The title is usually displayed inside an "H2" tag.
Category Description: Show or hide the description of the selected Category.
Category Image: Show or hide the image of the selected Category.
Image Height: Height for category images.
Subcategory Levels: Maximum number of levels of subcategories to show.
Number of Columns: The number of colums to show.
Empty Categories: If Show, empty categories will display. A category is only empty - if it has no items or subcategories.
No Products Message: If Show, the message 'There are no products in this category' will display when there are no products in the category and 'Empty Categories' is set to show.
Show Subcat Image: Show/Hide the subcategory's image.
Subcategories Descriptions: Show/Hide the subcategory's descriptions.
Truncate Description: Maximum number of Characters to show in description.
Show Product Count: If Show, the number of products in the category will show.
Page Subheading: Optional text to show as a subheading.
Show All Products: Show/Hide all products.
Show Product Image: Show/Hide product images.
Product Image height: Height for product images on listing pages.
Show Intro Text: Show/Hide Intro Text.
Link titles: On Products, link title to product detail page.
Shared Options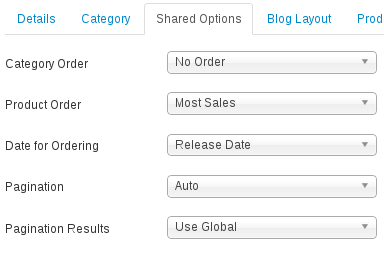 Shared Options include:
Category Order: Sort order for Categories. Called 'primary_ordering' in the code, May be one of:


No Order
Title Alphabetical
Title Reverse Alphabetical
Category Manager Order
Product Order
: Sort order of products if shown. Called 'secondary_ordering' in the code. May be one of

Most Recent First
Oldest First
Title Alphabetical
Title Reverse Alphabetical
Author Alphabetical
Author Reverse Alphabetical
Most Hits
Least Hits
Most Sales
Discount
Reverse Discount
Product Manager Order

Date for Ordering: If sorting on Most Recent or Oldest, choose which date is to be used:


Created
Modified
Published
Release Date

Pagination: Show/Hide pagination
Pagination Results: Show/Hide pagination results: example "Page 1 of 4"