Menu Sales Report for Artist
Sales Report for Artist View uses the following files in components/com_mymuse/views/reports/tmpl/:
default.xml
default.php
default_no_auth.php
Read more on managing Sales Reports for Artists.
Example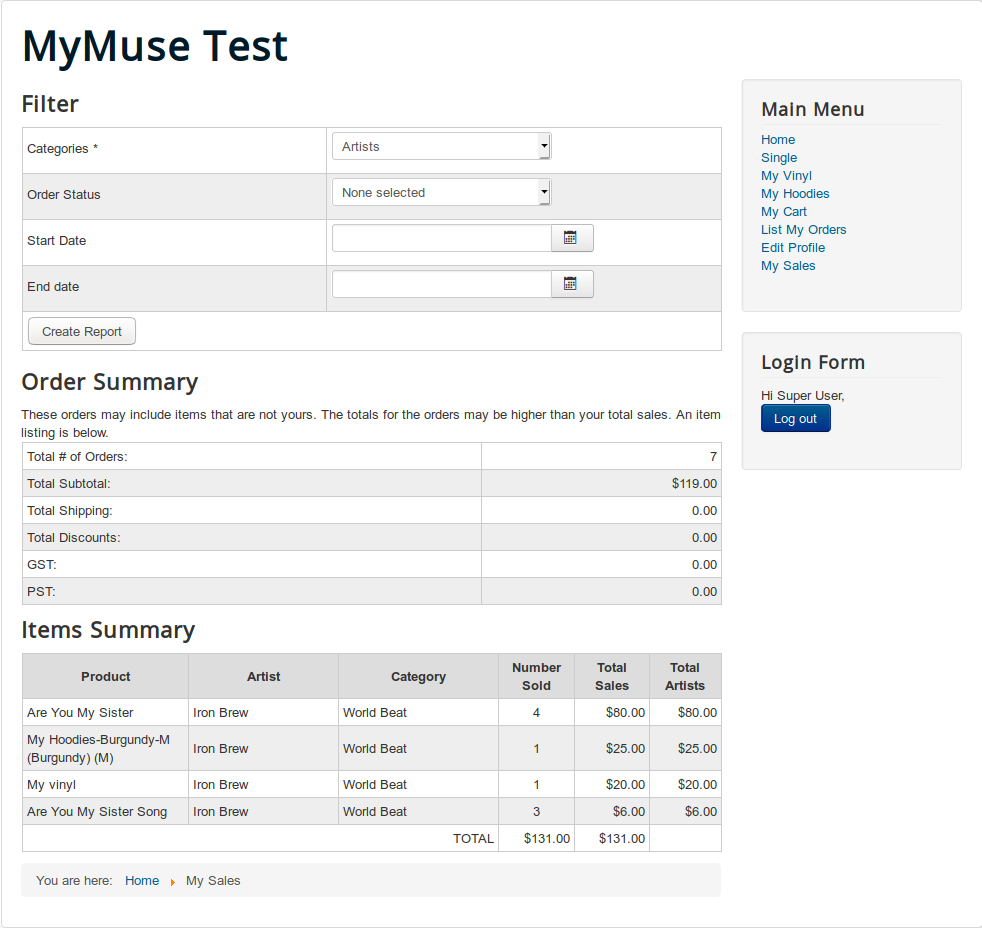 Filter
You can filter the reports on:
Order Status: Pending, Confirmed, Cancelled, Shipped, Invalid.
Category: A select drop down will appear if there are sub-categories.
Start Date: Optionalk start date of report.
End Date: Optional end date of report.
Order Summary
Total number of orders: Total orders that this artist (these artists) had products in.
Total Subtotals: Total of all order subtotals.
Total Shipping: Total of all shipping in these orders.
Total Discounts: Total Discounts in these orders.
Totals for taxes:Totals of any taxes paid in these orders.
NOTE: Totals are for the complete ORDER, which may include other artists products. If Shopper Discounts are used, they are totaled here and reflected iin the Item Summary below.
Items Summary
Product: each product that has been sold in the above found orders.
Artist: The Artist/Category the product is assigned to.
Number Sold: Number sold in the above orders.
Total Sales: Totals sales in the above orders.
Total Artists: The cut to the artist. The percentage is set in administrator, Components->MyMuse->Store->Sales Reports for Artists options.
NOTE: If a product is sold to a shopper with a Shopepr Group discount, the discounted price is recorded for the sale.